Activating Your OctaneLive Account
To activate the OctaneLive Account to make the plugin working, is simple.
Go to the OTOY website and login with you username and password.

If your login is correct, go to your OctaneLive Accounts and you will see your username and password for the Autodesk Softimage plugin.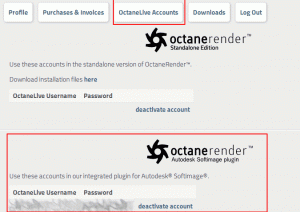 The next step is to enter this data into the plugin.
To use this, open the Render Options over the menu with OctaneRender -> Render Settings.

It takes some seconds and you will get this error message "Error: Invalid OctaneLive plugin account or wrong liveId / password combination."
This is because the plugin isn´t activated with your OctaneLive Account. After that, the render options are opened.
To activate the plugin, switch to the OctaneLive Account tab.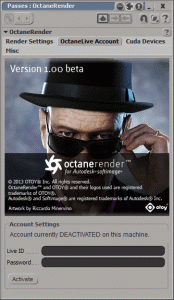 Here you will see the input fields where your OctaneLive Account information must be entered.
Make it and if the information you entered is correct, the tab will change.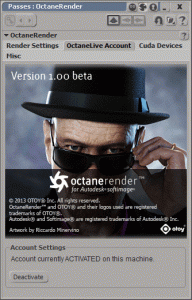 Congratulation, the plugin is now activated. To deactivate it, read the Deactivating Your OctaneLive Account section.
.