Update Octane for Softimage
The update in the beta stage contains two options.
Option 1:
The plugin will be updated over a new dll-file.
Option 2:
The plugin is updated with a new add-on file.
For a new plugin version which have changes in the PPG of the renderer, means that there are new options, the render property in the pass view from the explorer must be changed on all scenes separately. The background is, the layout is saved in the scenes under the property.
To update the plugin
Option 1:
Close Softimage and overwrite the existing dll-file with the new one.
Option 2:
Uninstall the addon.
Install the new addon.
If there are some changes in the render PPG, delete all scene render properties. A workaround is shown in the next paragraph.
To update existing scenes
To remove the render property, open the explorer and change the view to pass.
Right-click on the render property and choose "Delete" or simple press del an your keyboard.
If you use loacal copies of the render property, delete every entry and save the scene.
Do this for every scene which uses the Octane renderer.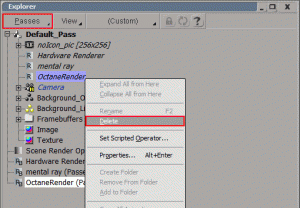 You can now install the new addon and load the old scenes. In which order you do this, is not important.