Download Full Version
There are two ways to download the OctaneRender for Softimage.
At first, you will need The Microsoft Visual C++ 2010 x64/x86 Runtimes and Redistributables files from Microsoft.
For a detailed information how to install, please read Installing Octane for Softimage.
Way 1:
To download OctaneRender for Softimage, go to the OTOY website and login with your username and password.

In the download section, you will find the standalone and the plugin version.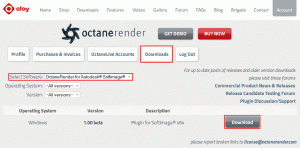 Way 2:
For some versions, like release candidates, there is no link in your download section.
This versions have only links in the corresponding forum thread under the "Announcements" area.
You can find the forum at this link.