Octane 2.1 Features
A new node has been added to the Rendertarget for Render Passes. By default, all passes are off, but you can enable individual passes, and when the Viewport is open, those enabled passes can be viewed via the Render Passes drop-down box in the Viewport.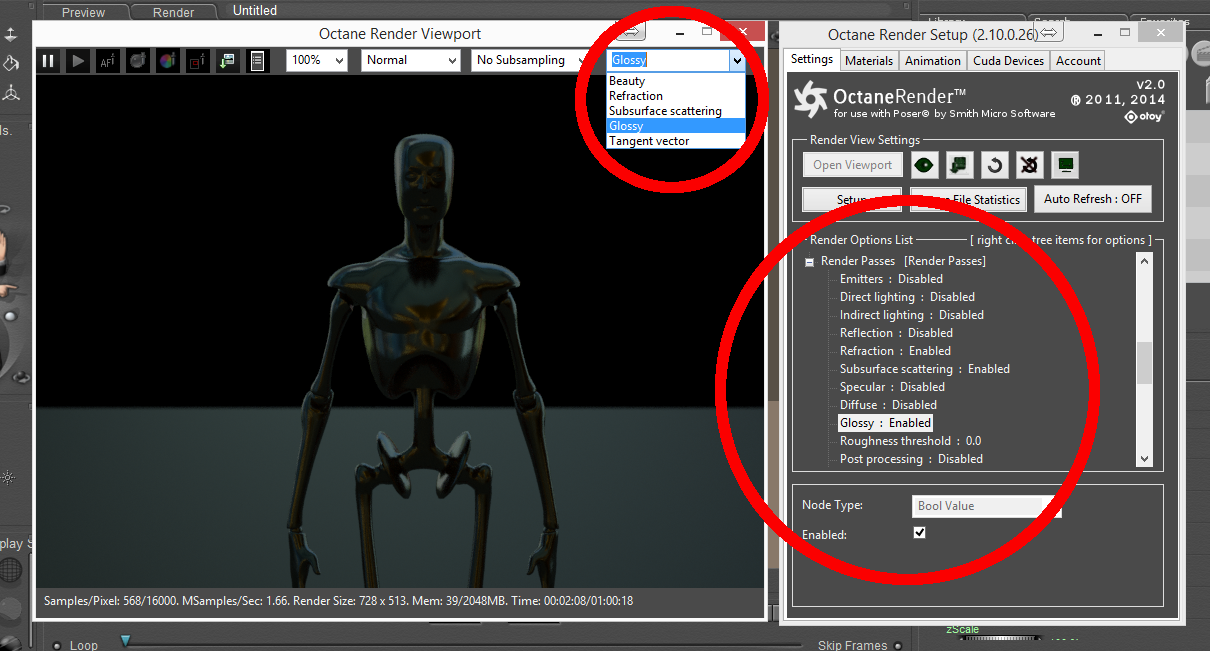 The render statistics show the samples/pixel for the current render pass.
The two important pins in the Render Passes node are:
Roughness Threshold : To distinguish between specular and glossy materials. with roughness < threshold are considered specular, material with roughness > threshold are considered glossy.
Minimum Info Start Samples : The minimum amount of samples we need to have rendered for the beauty passes before we're allowed to start rendering the info passes. 0 means that we wait until all the beauty passes are finished. In order to force Info render passes to be immediately available, set this value to 1.
Motion Vector Pass
The Motion Vector pass is a special case, because Poser does not provide vertex velocities, so if you need to view this pass, use the following workflow:
Animation tab->Export Animation (tick "Refresh Geometry Each Frame" and untick "Refresh Scene Each Frame). Click "Export Animation" and write to an OCS or file.
Open the exported scene in Octane Standalone, enable the Render Passes->Motion Vector pass, tick the "MV" pass button.