Internet Access
The OctaneRender™ for Poser® plugin requires internet access to launch the first time. Internet access is not required to use both OctaneRender™ and OctaneRender™ for Poser® plugin.
When no internet access is present, the Live Database will not be accessible. Upon launching the plugin for the first time, the user will need to log in to their OctaneLive™ account which associated with their forum log-in information. This information can be found in the customer section of the OctaneRender™ website.
Octane 3.0 Alpha 10 and Later
When you start the plugin, Octane will ask you for your Otoy username and password. If you receive an error indicating that the plugin "Could not find any available licenses for this user", then either run Octane Standalone Beta 1 or later and File->Preferences->Account->Sign Out on the last PC that ran Octane, OR Deactive Octane Standalone via the web at https://render.otoy.com/account/octanelive.php.
Prior to Octane 3.0 Alpha 10
Enter your plugin username and password into the OctaneLive Account tab and click Authenticate.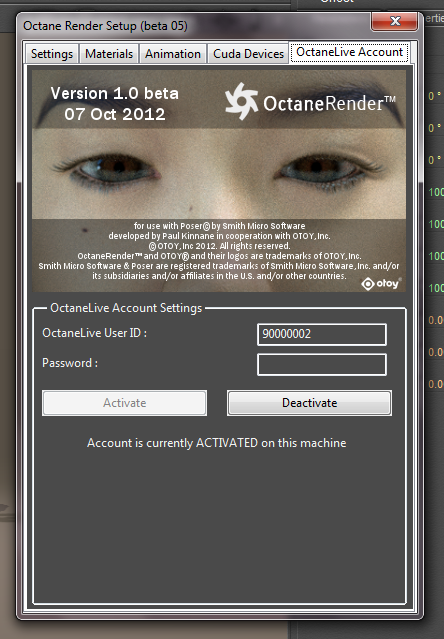 .