VDB Volumes
The plugin supports rendering files through Modo's Voxel item.
Creating VDB Volumes
To render VDB Volumes, you will need to set up the volume in the following way:
Create a new schematic workspace
Click Item List > Add Item > Volume
Click Item List > Add Item > VDBVoxel
Load a VDB file into the VDBVoxel, or create your own mesh and select it as the VDBVoxel > Source Item
Drag the Volume and VDBVoxel items into the schematic
Connect the VDBVoxel to the Volume > Voxel Source channel.
In the Item List, right click the Volume > Shade > Create Item Shader. This will create a material to control the Volume's shading.
Optional: Add an Octane Override to the new Shader Tree , and connect a to the Override.
NOTE: The plugin does not support transforms for the VDBVoxel item. You will need to transform the Volume item instead.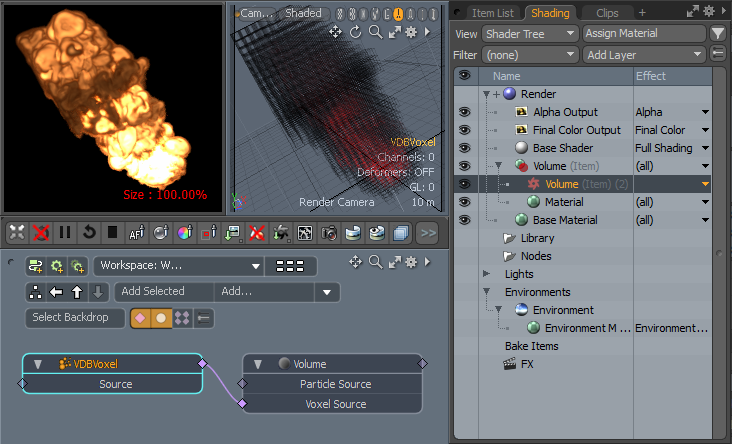 Shading Volumes
The Modo plugin includes some basic support for Volume shading using the Shader Tree, but using an Octane Override is recommended for full control.
To shade the Volume using the Shader Tree:
Select the Volume's material > Material Rays tab.
Adjust the following channels under Volumetrics: Amount, Scattering Color, Amount, Absorption Color, Luminosity Amount, Luminosity Color and Density.
The shade the Volume using an Octane Override:
Select the Volume's material in the Shader Tree.
Add an Octane Override and disconnect the material from the Override channel.
Add a Volume Medium node and connect it to the Override.
Adjust the Volume Medium node parameters to shade the Volume.