Texture Displacement
Texture uses a fast voxel based approach for creating displacement. It requires surfaces to be UV mapped and only supports Image-Based using UV Projection. All other textures must be connected to a Baking Texture first.
The Texture Displacement node may introduce rendering artifacts with certain textures, so Octane also includes a Vertex Displacement node that uses a slower, more robust approach, with fewer limitations.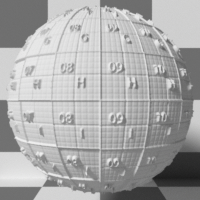 Texture Displacement Parameters
Texture - The input texture. Only Image-Based Textures are supported directly. All other textures must be connected to a Baking Texture first.
NOTE: When an Image-Based Texture is connected directly, the Power and channels are ignored.
Mid Level - Defines the Displacement shift in texture value range. Set this value to 0.5 for image textures that use 50% to represent no displacement.
Level Of Detail - Adjusts map detail quality. Higher values reduce artifacts seen in shadows cast on the Displacement surface and brings out finer details, but it increases render time.
Height - The displacement height in meters.
NOTE: Calculating displacement places additional load on the . Very high or extremely low height values may cause issues or GPU errors.
Displacement Direction - Lets you choose different Displacement vectors.
Filter Type - Selects the Displacement map filter.
Filter Radius - Adjusts the number of nearest pixels to use for filtering. Higher values result in smoother Displacement maps. This parameter is valid if you enable a Box or Gaussian filter.