Specular Material
The is used for transparent materials such as glass and water.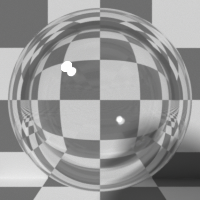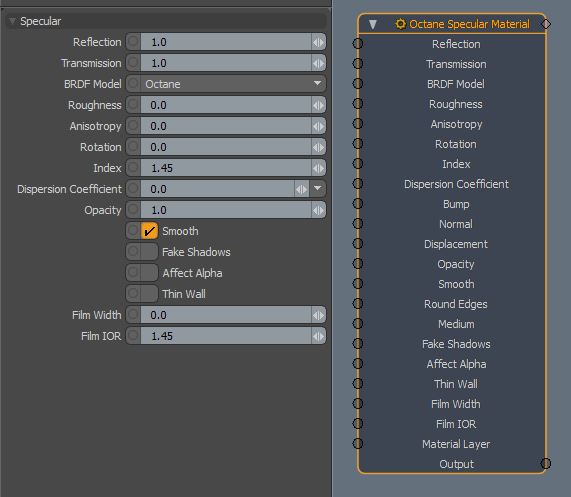 Specular Material Parameters
Reflection - Determines surface reflection strength and color. Lower values increase the ability to transmit light through the object volume.
- Controls the light passing through the surface of the material via refraction.
BRDF Model - Determines how light is reflected and refracted. See BRDF Models for details.
Roughness - Roughness values for the Reflection and Transmission channels.
Anisotropy - Anisotropy values for the Specular and Transmission channels. A value of -1 is horizontal, while 1 is vertical. A value of 0 is Isotropic.
Rotation - Rotation values for the Anisotropic Specular reflection and Transmission channel.
Index - The specular reflection's or transmission's Index of Refraction.
Dispersion Coefficient - This is the B parameter of the Cauchy dispersion model. Increasing this value increases the coloration amount and dispersion in the layer's transmission and caustics.
Bump - Creates fine surface detail by simulating a relief using a Greyscale texture interpreted as a height map.
Normal - Creates fine surface detail by distorting normals using an RGB image.
- Adjusts the height of a surface's vertices at render time using a texture. See Displacement for details.
Opacity - Controls the material's opacity with a Greyscale texture.
Smooth - Smooths surface normals. If this option is disabled, edges between polygons appear sharp, giving the surface a faceted look.
Round Edges - Connects to a Round Edges node. Rounds geometry edges by using a shading effect instead of creating additional geometry. See Round Edges for details.
Medium - Connects to a Medium node. See for details.
Fake Shadows - If enabled, light traces through the Material during the shadow calculation, ignoring refraction.
Affect Alpha - If enabled, this allows the material's refractions to affect the .
Thin wall - When enabled, the geometry becomes very thin, so the ray bounce exits the material immediately, rather than entering the medium.
Film Width - The film coating's thickness. This simulates the look of thin film on a surface, like an oil slick which creates a rainbow effect. Larger values increase the effect's strength.
Film IOR - The film's index of refraction. This value adjusts the visible colors in the film.
Material Layer - Adds a Material Layer above the base material. See Material Layers for details.