Specular Layer
The Layer is used for shiny materials like plastics, or clear materials like glass. The Thin Layer option also makes it suitable for clear coats. Refer to the , Specular, and Universal topics in this manual for more information.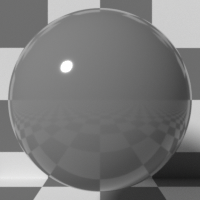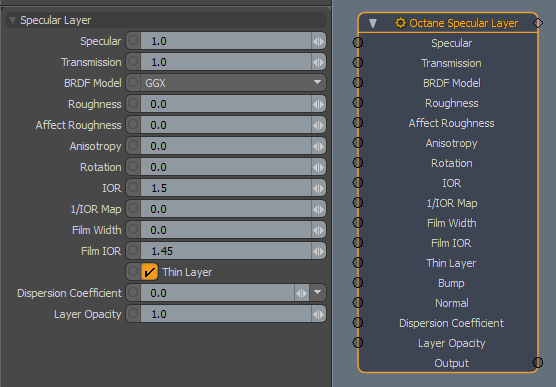 Specular Layer Parameters
Specular - The layer's coating color.
- The layer's transmission color.
BRDF Model - Determines how light reflects or refracts. See BRDF Models for details.
Roughness - The layer's roughness.
Affect Roughness - The percentage of roughness affecting the subsequent layer's roughness.
Anisotropy - The layer's anisotropy. A value of -1 is horizontal, while 1 is vertical. A value of 0 is Isotropic.
Rotation - The rotation of the specular anisotropic reflection.
IOR - The specular reflection's or transmission's Index Of Refraction.
1/IOR Map - The Index Of Refraction map. Each texel represents 1/IOR. When this is not empty, it overrides the IOR setting.
Film Width - Sets the film coating's thickness.
Film IOR - Sets the film coating's Index Of Refraction.
Thin Layer - Makes the layer very thin so it reflects, or goes straight though the layer.
Bump - Creates fine surface detail by simulating a relief using a Greyscale texture interpreted as a height map.
Normal - Creates fine surface detail by distorting normals using an RGB image.
Dispersion Coefficient - This is the B parameter of the Cauchy dispersion model. Increasing this value increases the coloration amount and dispersion in the layer's transmission and caustics.
Layer Opacity - Controls the layer's opacity with a Greyscale texture.