Post Processing Passes
Passes separate the Post Processing effect into its own layer. The pass will only render correctly if Camera > Post Processing > Postproc Enabled is enabled.
Post Processing Passes can be accessed from the Render Toolbar > button > Beauty and Post Proc tab.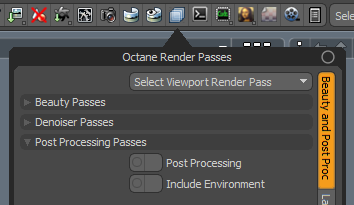 Post Processing Pass Parameters
Post Processing - Enable the Post Processing pass. Contains the post-processing applied to the beauty pass. When enabled, no post-processing is applied to the beauty pass itself.
Include Environment - When enabled, the environment render pass is included when doing post-processing. This option only applies when the environment render pass and alpha channel are enabled.
Compositing
The following formula can be used to reconstruct the final render result:
Render Result = Main Beauty Pass + Post-Processing Pass