Octane Materials
There are several different types of materials in OctaneRender which can be applied to surfaces to achieve a variety of surface appearances and rendering effects.
nodes can be accessed from Create Nodes > New Material
Composite Material - Mixes several materials using masks.
Material - Used for rough, non-reflective materials, as well as light emitting meshes.
Material - Used for shiny materials such as plastics.
Layered Material - Constructs complex materials consisting of a base layer and several material layers.
Metallic Material - Used for metallic materials.
- Mixes two materials.
Material - Optimizes rendering by helping the render kernel find important light sources.
Material - Captures shadows.
Material - Used for transparent materials such as glass.
Toon Material - Used to produce a Cel Shaded look.
Toon Ramp - Controls the shading on Toon materials.
Universal Material - Combines several material types into a single material.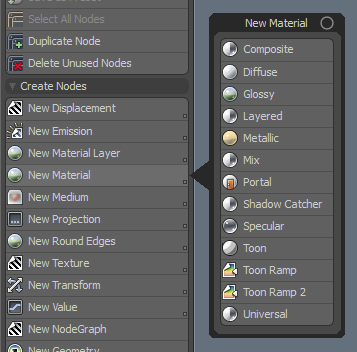 This section also includes other node categories associated with materials:
Material Layers
Round Edges