Metallic Material
The Metallic is used for highly reflective surfaces such as metals.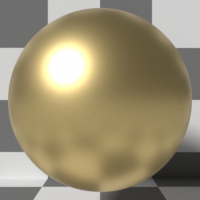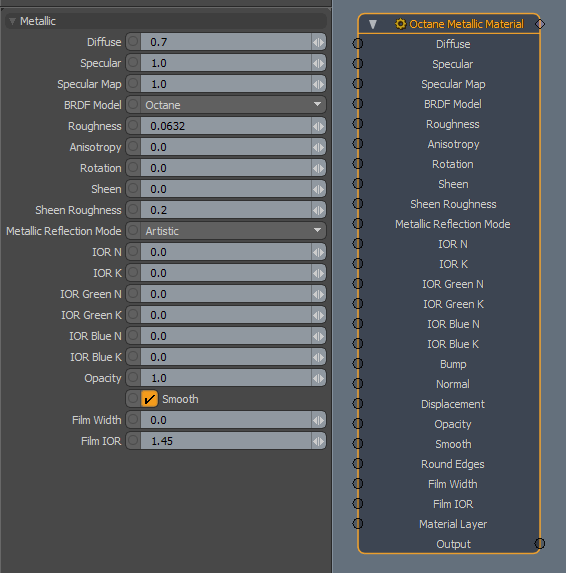 Metallic Material Parameters
- The color of the diffuse base layer, which is visible when Map is 0.
Specular - The specular reflection channel, which determines the metallic color. If the IOR is set to a value greater than 1, the color's brightness is adjusted to match the Fresnel equation.
Specular Map - Controls the blend between the Diffuse and Specular channels.
BRDF Model - Determines how light is reflected. See BRDF Models for details.
Roughness - Adjusts the Specular reflection channel's roughness.
Anisotropy - Anisotropy values for the Specular channel. Controls the material's reflectance uniformity. A value of -1 is horizontal, while 1 is vertical. A value of 0 is Isotropic.
Rotation - Rotation values for the Anisotropy channel.
Sheen - The material's sheen color.
Sheen Roughness - The Sheen channel's roughness.
Metallic Reflection Mode - Changes how reflectivity is calculated. By default, reflections use Schlick's Approximation for the Fresnel effect. For a more physically accurate falloff, you can enter a complex IOR (n and k values):
Artistic - Uses the specular color.
IOR + Color - Uses the specular color and adjusts the brightness using the IOR.
RGB IOR - Uses the three IOR values for 650, 550, and 450 nm, and ignores the specular color.
IOR >N/K - Complex-valued Index Of Refraction (n-k*i), which controls the Fresnel effect of the Metallic material's specular reflection. For RGB mode, this serves as the Index Of Refraction for the red light (650nm).
IOR (Green) N/K - For RGB mode, this is the Index Of Refraction for the green light (550nm).
IOR (Blue) N/K - For RGB mode, this is the Index Of Refraction for the blue light (450nm).
Bump - Creates fine surface detail by simulating a relief using a Greyscale texture interpreted as a height map.
Normal - Creates fine surface detail by distorting normals using an RGB image.
- Adjusts the height of a surface's vertices at render time using a texture. See Displacement for details.
Opacity - Controls the material's opacity with a Greyscale texture.
Smooth - Smooths surface normals. If this option is disabled, edges between polygons appear sharp, giving the surface a faceted look.
Round Edges - Connects to a Round Edges node. Rounds geometry edges by using a shading effect instead of creating additional geometry. See Round Edges for details.
Film Width - The film coating's thickness. This simulates the look of thin film on a surface, like an oil slick which creates a rainbow effect. Larger values increase the effect's strength.
Film IOR - The film's index of refraction. This value adjusts the visible colors in the film.
Material Layer - Adds a Material Layer above the base material. See Material Layers for details.