Mediums
OctaneRender supports participating media inside objects (, Subsurface , and Volume). These settings are stored in Medium nodes, which are attached to the corresponding medium inputs on material nodes.
Medium nodes can be accessed from Create Nodes > New Medium
Absorption Medium
Scattering Medium
Schlick Phase Function
Volume Gradient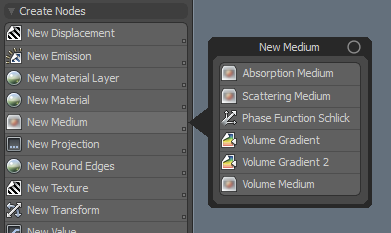 NOTE: will only work correctly on Meshes that have thickness (a closed volume). A single-sided plane will not produce correct results. e.g. A plane representing a leaf will not work correctly if a with a Medium is applied to it.