Light Passes
Light Passes isolate a light source's contribution based on its Light Pass ID. You can combine individual light passes to recreate the original render in post, or to further adjust the individual contributions of each light during post.
Light Passes can be accessed from the Render Toolbar > button > Layer and Light tab.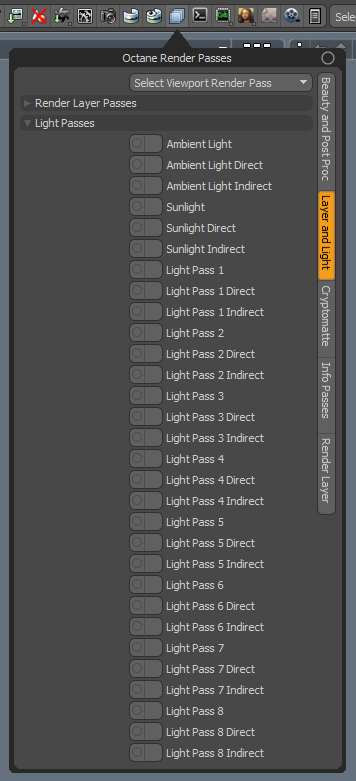 The following Light Passes are available:
Ambient Light - Captures ambient light either from the sky in a Daylight environment, or from the texture in a Texture environment.
Light Pass 1-8 - Light passes 1 to 8 capture Mesh Emitter and Modo Light contributions. Emitters (both Texture and ) and Modo lights have a Light Pass ID assigning an emitter to a light pass. It's possible to assign multiple emitters to the same light pass. If nothing is configured, all emitters contribute to Light Pass 1.
Direct - Captures the direct light only.
Indirect - Captures the indirect light only.
Assigning Light Pass IDs to Emitters
You can control the Light Pass ID of Modo lights by adjusting the Modo Light > Octane Light > Light Pass ID channel. For textured using nodes, you can adjust the Texture Emission or Black Body node Light Pass ID channel.

Compositing
The following formulas can be used to reconstruct the Beauty Pass:
Render Result = Ambient Light + Sunlight + Light Pass 1 + Light Pass 2 + Light Pass 3 + Light Pass 4 + Light Pass 5 + Light Pass 6 + Light Pass 7 + Light Pass 8
Render Result = Ambient Light Direct + Ambient Light Indirect + Sunlight Direct + Sunlight Indirect + Light Pass 1 Direct + Light Pass 1 Indirect + Light Pass 2 Direct + Light Pass 2 Indirect + Light Pass 3 Direct + Light Pass 3 Indirect + Light Pass 4 Direct + Light Pass 4 Indirect + Light Pass 5 Direct + Light Pass 5 Indirect + Light Pass 6 Direct + Light Pass 6 Indirect + Light Pass 7 Direct + Light Pass 7 Indirect + Light Pass 8 Direct + Light Pass 8 Indirect