Diffuse Material
The simulates a rough surface that reflects light in all directions, therefore specular reflections are not visible. This material can also be used to create light emitting surfaces used by .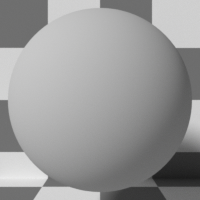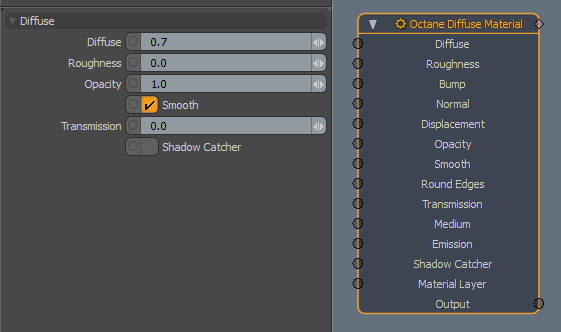 Diffuse Material Parameters
Diffuse - The material's base color (also known as albedo). Can be controlled by a value or texture.
Roughness - Determines the spread of highlights on the surface. A high value can simulate very rough surfaces such as sand paper or clay. Can be controlled by a value or texture.
Bump - Creates fine surface detail by simulating a relief using a Greyscale texture interpreted as a height map.
Normal - Creates fine surface detail by distorting normals using an RGB image.
- Adjusts the height of a surface's vertices at render time using a texture. See Displacement for details.
Opacity - Controls the material's opacity with a Greyscale texture.
Smooth - Smooths surface normals. If this option is disabled, edges between polygons appear sharp, giving the surface a faceted look.
Round Edges - Connects to a Round Edges node. Rounds geometry edges by using a shading effect instead of creating additional geometry. See Round Edges for details.
- Uses a color or texture that is mixed with the material's Diffuse color, and is most noticeable in areas affected by indirect lighting.
Medium - Connects to a Medium node. See for details.
Emission - Allows the material to emit light by connecting it to an Emission node. See Mesh Emitters for details.
- Makes the material a shadow catcher, which captures shadows cast by other objects. It becomes visible in areas that are in shadows, while other areas become transparent.
Material Layer - Adds a Material Layer above the base material. See Material Layers for details.