Device Settings
Device Settings can be accessed from the Render Toolbar > Devices Button > Cuda Settings.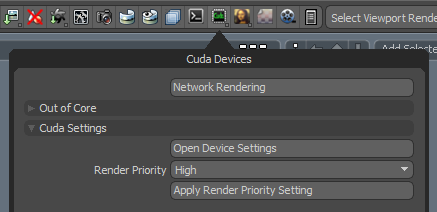 Open Device Settings - Opens the OctaneRender Device Preferences:
CUDA Driver - This shows the current CUDA® driver and runtime versions.
Render - Select GPUs to use for rendering if more than one is installed.
Use Priority - This shows whether the device will use the priority indicated at the Render Viewport's Render Priority setting. The Use Priority option throttles down rendering on one or more GPUs to improve system responsiveness, especially when rendering on a GPU used for the display.
Tonemap - Enables the specific GPU to be used for tonemapping.
Denoise - Enables the specific GPU to be used for denoising.
Device Info - Shows the selected device's specifications.
Render Priority - This sets the priority used for the active GPUs that have Use Priority enabled.
Apply Render Priority Settings - This button must be pressed to apply the Render Priority settings.
NOTE: If you have on-board graphics (or a second GPU), use it as your Windows display adapter. If you only have a single GPU, you may wish to set the Render Priority of your card to Low, to improve system responsiveness.