Black Body
The emission uses Temperature (in Kelvin) and Power to control the color and intensity of the light.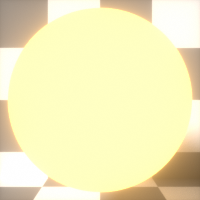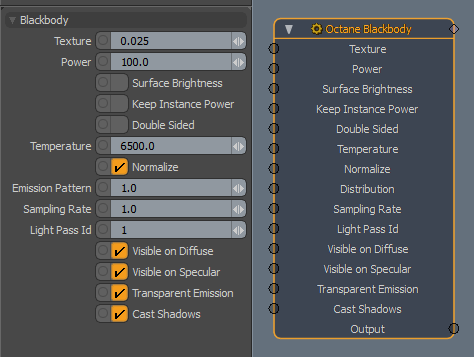 Black Body Parameters
Texture - Sets the light source's efficiency to either a value or texture. Keep in mind that real-world lights aren't 100% efficient at delivering power at their specified wattage. A 100 watt light bulb doesn't deliver 100 watts of light.
Power - The light source's wattage. You should set each light to their real-world wattage. For example, set a desk lamp to 25 watts, a ceiling lamp to 100 watts, and an LED light to 0.25 watts.
Surface Brightness - Causes emitters to keep a constant Surface Brightness, independent of the emitter's surface area.
Keep Instance Power - Enabling this option with Surface Brightness disabled, allows the power of uniformly scaled objects to remain constant.
Double Sided - Allows emitters to emit light from the front and back sides.
Temperature - The temperature (in Kelvin) of the Black Body emission's light.
Normalize - This keeps the emitted light's luminance constant if the temperature varies.
Distribution - Controls the light pattern. You can set this to a Greyscale image connected to a texture or file. The Image texture's Projection nodes control the light's orientation and direction.
Sampling Rate - This lets you choose which light sources receive more samples. A value of 0 means this light source is not sampled directly.
Light Pass ID - The Light Pass ID which captures the emitter's contribution. Used by and Light Linking.
Visible On - When enabled, the light source casts light and shadows onto diffuse surfaces.
Visible On - When enabled, the light source will be visible on specular surfaces.
Transparent Emission - Cast illumination on diffuse objects, even if the emitter is transparent.
Cast Shadows - When enabled, direct light shadows will be calculated for this light source. The Sampling Rate must be greater than 0 for this option to work.