Baking Texture
The Baking Texture can bake arbitrary textures into an image. This allows you to use procedural textures with the Texture node. The image is baked automatically whenever an input is changed.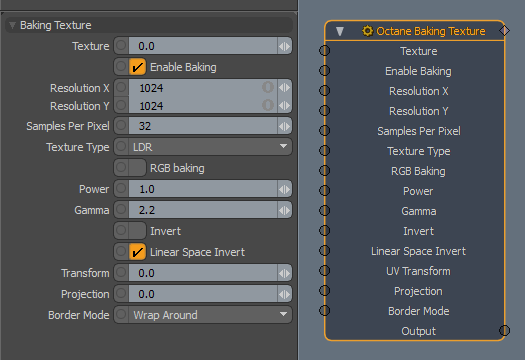 Baking Texture Parameters
Texture - The input texture.
Enable Baking - Enable texture baking. Disabling this pauses texture baking.
Resolution X/Y - Resolution of the baked texture.
Samples Per Pixel - The samples/px used for the baked texture.
Texture Type - The baked texture type.
RGB baking - Bakes the texture in RGB mode. Disable to bake in greyscale mode.
Power - Controls image brightness.
- Controls gamma correction.
Invert - Inverts the texture values.
Linear Space Invert - Inverts the image in Linear color space.
Transform - Accepts a Transform node. Positions, rotates, and scales the texture.
Projection - Accepts a Projection node. If nothing is connected to this input, the texture uses the surface's first UV set.
Border Mode - Sets the behavior of the space around the image if it doesn't cover the entire geometry.