Octane Menu And Octane Shelves
Octane Menu
The OctaneRender® plugin adds a new dropdown menu to Houdini®with useful links and information about OctaneRender (Figure 1).
Plugin Manual - A link to this manual.
Plugin Tutorials - A link to the tutorials available in the manual.
Check For Update - A link to the OctaneRender for Houdini release subforum, where all the plugin builds are available.
Support Forum - A link to the OctaneRender for Houdini support forum.
OctaneRender Site - A link to the main OTOY® OctaneRender web page.
Facebook Blog - A link to the Facebook page, where the plugin developers post useful information about OctaneRender for Houdini.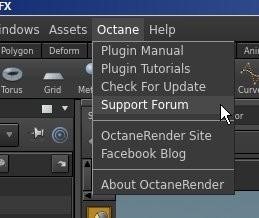 Figure 1: The Octane Menu
Octane Shelves
There are two Octane shelves. The main shelf includes all the basic tools to work with the plugin, like adding the Octane ROP node or the RenderTarget MAT node, Octane lights, etc. (Figure 2). The tab supports some IPR features while working with the MPlay IPR (Figure 3).

Figure 2: The Octane shelf

Figure 3: The Octane IPR shelf
To add the Octane shelves, click on the + icon at the end of the shelf tabs, then click Shelves and select Octane (Figure 4).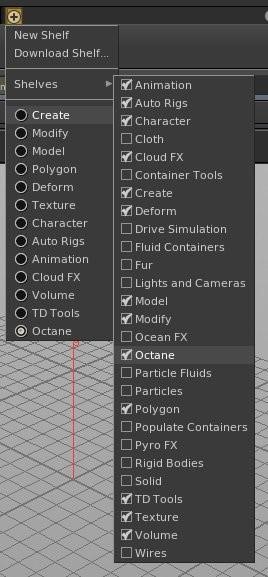 Figure 4: Adding the Octane shelf from the Add Shelves menu