General Settings
This section will examine the Render Settings associated with the Octane Renderer. Overall, the settings here are similar to the settings found in the Live Viewer but you can do fine adjustments from here that are not in Live Viewer. Options such as resolution, picture format, aspect ratio, or frame number are in the classic cinema 4D render output section.
The Octane Renderer settings can be accessed in the Render Settings window of Cinema 4D (figure 1). Select Octane Renderer from the renderer menu in the upper left corner. The window contains 3 main tabs: Main, Overwrite Kernel Settings and . There is a separate section that covers Render Passes.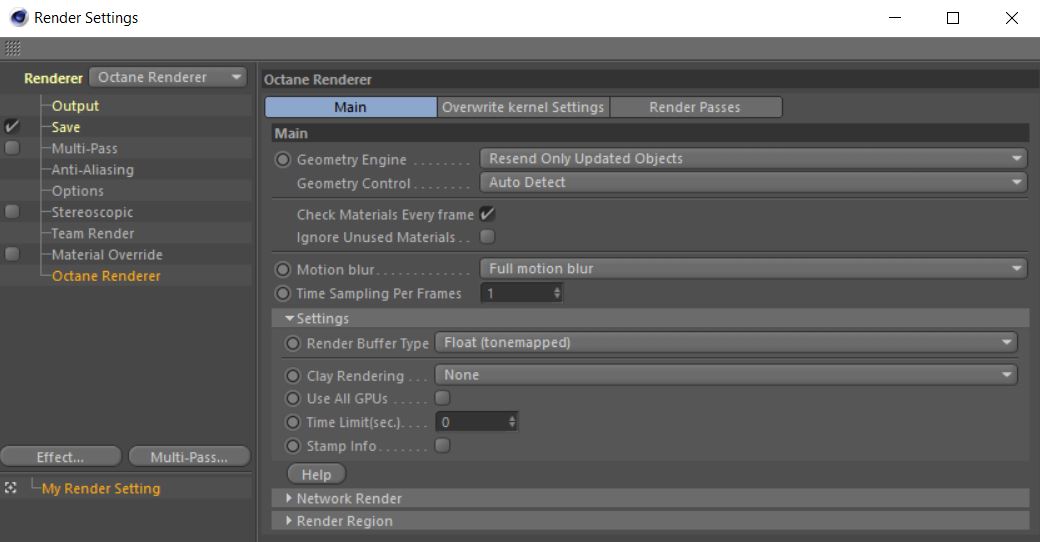 Figure 1: The Octane Renderer settings.
Main Settings Tab
Geometry Engine
There are 2 options here:
Send All Scene Data - This is the most reliable and slowest render data sending method. Reset all data and completely send scene on each frames. Do not choose this unless you have to.
Resend Only Updated Objects - This is faster method for single frame/animation rendering. On first frame, all scene data will be sent to Octane Render. Next frames, only updated parts of scene will be updated.
Geometry Control
Checks the behavior of objects in the scene on the data transfer to the Octane Renderer. There are 3 options here:
Manual - Requires to specify the animated, emissive, etc.. objects with Octane Object Tag by hand.
Auto Detect - Makes some pre-calculation before animation rendering. This method tries to find/assign the movable, emissive, etc. objects automatically. With this option, there is no need to assign object tags manually. If it can't finish evaluating the scene in time, all objects will be assumed to be movable.
All Objects Movable - This works as LV's "Auto" parameter for geometries. Be aware of limits of "Auto" method. It may cause crash after 10-15k movable objects.
Check Every Frame
Controls the material in the scene for each frame. Default is recommended.
Ignore Unused Materials
The materials not used the scene are not checked.
There are 3 options:
Disabled - Selecting this will not render the motion blur in your scene.
Camera Motion Blur - This option ignores the object motion blur on the scene and only renders the motion blur effect of the camera motion.
Full Motion Blur - This option will render both camera and object motion blur on the scene.
When motion blur is added to a scene with fast moving objects, the results may not render correctly in Live Viewer. Extra data is required for motion blur in fast movements. It produces sub-key frames for motion blur objects. For example the value 4 will create 4 sub-key frames between the two frames. Thus, increasing the quality and accuracy of motion blur.
Render Buffer Type
Consists of 3 parts: Float (Tonemapped), 8-bit (Deprecated) and Float (Linear). Default is Float (Tonemapped). Float (Linear) is for linear workflow.
Clay Rendering
It consists of 3 parts as None, Gray and Color. Clay render is useful for fast output, or you can use this option again if you just want to see the animation and light shadow distribution.
Use All GPUs
If you have more than one and have switched off some GPUs in the Octane LV settings, you can use them all for rendering with this option. Default is off.
Time Limit (sec.)
Maximum time (second) to rendering for each frames. Default is recommended.
Stamp Info
Stamps "render Info" for final render output. This render info includes information such as sample count, Vram usage, duration etc. It is useful for comparisons.
Network Render
This option is covered in the section.
Render Region
Renders only a specified area of the render window.
Overwrite Kernel Settings Tab
Enable
Overwrites any Kernel settings from the Live Viewer options.
Toon Shadow Ambient
Adjusts the ambient color for Toon shadows.