Hardware and Software Requirements
Hardware Requirements
Octane for After Effects requires a NVIDIA graphics card with support for compute capability 2.0. The more CUDA cores available on the , the faster renderings will be executed.
Recommended system requirements include:
GPU: NVIDIA Kepler/Maxwell/Pascal GPU and 4 GB+ VRAM
GTX 970 or higher recommended
CPU: Intel i5
Intel i7 recommended
Due to the high load that After Effects puts on GPU-enabled cards, it is highly recommended that you use your on-board graphics or a second graphics card as the Windows display adapter. When setting up the second card, After Effects may still use the primary Octane rendering card for its GPU processing. To stop this happening, set the Preferred Graphics Processor to the one that is NOT your primary Octane rendering card.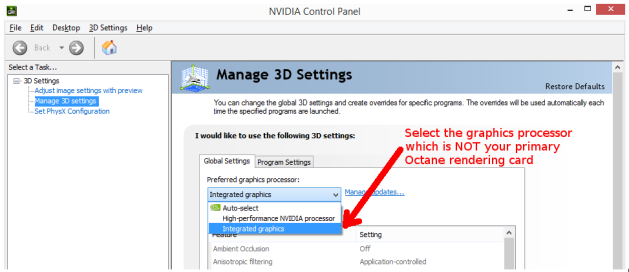 If you do not have an on-board or second graphics card, use the Low Priority Render Priority for rendering with Octane. You can set this on the plugin's Preferences dialog.
If you are running a GTX 690, or multiple graphics cards, it is important to disable SLI in the Nvidia control panel
Drivers
OctaneRender™ is a CUDA 8 application. It requires a current NVIDIA graphics driver (version 347.x or higher). For the latest drivers, please refer to the NVIDIA Driver Downloads website.
Software Requirements
The plugin does not require OctaneRender™ Standalone Edition to be installed. However, you must own a license for Standalone Edition in order to use the plugin (your Standalone credentials will be requested when you activate the plugin).
Operating System: Windows 7, 8, 10
Internet Access for License Verification