1.9 Version Support
This section provides conversion support for older versions of OctaneRender®.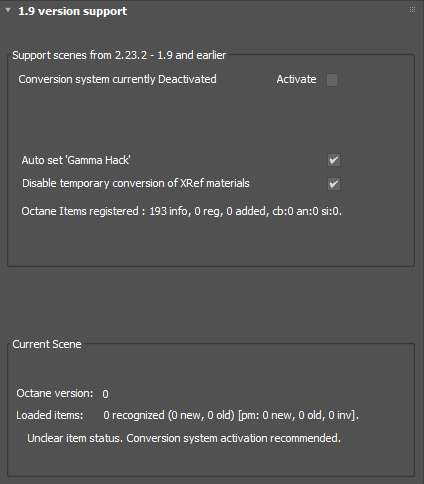 Figure 1: 1.9 Version Support
1.9 Version Support Parameters
Support Scenes from 2.23.2 - 1.9 and Earlier
Activate - When deactivate, loading an old Max file will result in grey materials. Check in Current Scene box that old items are detected. You can then activate the conversion.
Auto Set Hack - This will enable the 3DS Max Gamma Hack when old max files are loaded.
Disable temporary Conversion of XRef - XRef .max files with v1.9 materials must be converted separately. Enabling conversion may result in an unstable scene and is not recommended. However, it provides a way to have a quick look at what the fully converted scene will look like.
Current Scene - Scene Octane version statistics.