Material Converter
In some situations, you'll need to convert from other render engines into OctaneRender® Materials in order to render them in OctaneRender® for 3DS Max®. To accomplish this, go to the Render Setup window and click the Tools tab. Next, expand the Converter rollout and click the Convert All button. OctaneRender® converts all Object types listed in the Currently Supported window.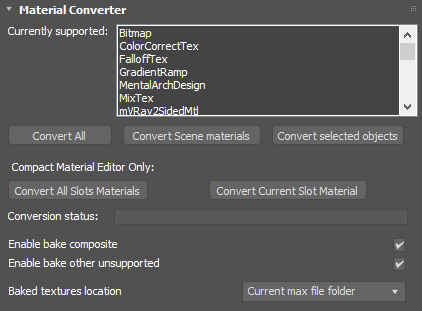 Figure 1: Material Conversion
Certain Objects, such as light sources, may need adjustments once the conversion process is complete.
Material Converter Parameters
Currently Supported - defines a supported list of object types that can be converted to OctaneRender®.
Convert All - Convert all supported object types.
Convert Scene Materials - Convert only the current scene materials.
Convert Selected Objects - convert only the objects that are selected.
Convert All Slot Materials - Convert all materials in the Compact Material Editor's slots.
Convert Current Slot Material - Convert only the currently selected Compact Material Editor's slot.
Conversion Status - Shows the progress of the conversion.
Enable Bake Composite - Bake out textures from combined textures for OctaneRender®.
Enable Bake Other Unsupported - Bake out textures from unsupported features for OctaneRender®.
Bake Location - Defines the directory to place the baked textures.